Basement in Blue Shell Cologne
Band: Basement
Location: Blue Shell, Cologne
Date: 09/13/2015
I can barely remember a show that did not include any support bands. Especially when it comes to bands that have anything to do with hardcore music. British emo-revivalists BASEMENT are one of those very few experiences. The band is currently on tour with BRAND NEW, but also play a bunch of solo shows – literally. There is no support act, not even a local one. It is just BASEMENT.
The Blue Shell in the south of Cologne's city is sold out. The tickets went very fast and more than a month prior to the show it is sold out. I have to admit that I do not like the Blue Shell. I have only been here once, years ago when Scottish alternative rockers TWIN ATLANTIC played here, and I was glad that no concert I wanted to attend to was hosted in the Blue Shell. The venue itself is okay, it is a nice bar, but when it's filled with about 150 people, it is full. It takes about five minutes to walk the eight meters from the entrance to the toilets.
When BASEMENT finally hits the stage and kick in with 'Fading' I am surprised about the great sound. I would not expect such a good sound in any venue this size. From the very beginning the crowd is moving and sings along. The band itself does not move that much. This might be due to the small stage, but they do not put on a wild performance on bigger stages, either.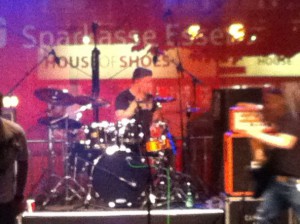 The setlist is a surprisingly good mix of the bands two records, the 90's emo homage "Colourmeinkindness" and their more hardcore-fuelled debut "I Wish I Could Stay Here". Also the alternative rock of the band's last 7" single "Further Sky" seems harmonic in the mix with the group's old material. They even play a new song, which seems to follow the alt rock path of the ep. This could easily be one of BASEMENT's best songs to date.
'Crickets Throw Their Voices' is one hell of a treat at the end of the show. The audience wants the band to play their big song 'Covet', but the bass is broken. Singer Andre Fisher takes one of the guitars and plays 'Yoke' on his own. Finally the band decides to play 'Covet' without the bass, which does not make such a big difference at all.
After 50 minutes the band leaves the stage, but promises to be back in February 2016. Then they will play at the bigger Luxor.
Text by Sebastian Berning