Jim Adkins and Jonah in Cologne Kulturkirche
Bands: Jim Adkins and Jonah
Location: Kulturkirche, Cologne
Date: 08/25/2015
JIMMY EAT WORLD is one of the most praised emo bands out there. Their singer/guitarist Jim Adkins does a solo run now. He performs his solo work, which is actually singer/songwriter music, some covers and of course many songs from his famous band. These shows are more intimate as the JIMMY EAT WORLD concerts and happen often in churches or even bars. Cologne's date is hosted at the wonderful Kulturkirche in the middle of nowhere in Cologne.
On the German dates Berlin's singer/songwriter duo JONAH handles the duties as the opening act. The seated audience seems to be unfamiliar with the two guys. Especially the first song is good. It is kind of melancholic, but still has a good melody. The following songs aren't as strong as that, but they are still far from being worse. I would not buy a record of them, but their music is good enough to entertain. Due to the sympathetic nature of the Berliners they easily win the crowd over for the thirty minutes of their stagetime.
After a short break finally JIM ADKINS hits the stage. It is just him with an acoustic guitar in his hand. No background musicians, no banner in the back, just a man with his instrument. 'Love Don't Wait', one of his tracks from his series of solo singles, opens the evening. But it is the material from JIMMY EAT WORLD that gets an even warmer welcome: 'Just Watch The Fireworks', 'Chase This Light' and 'For Me This Is Heaven', a song that JIMMY EAT WORLD hasn't played for five years. Especially the last one gets a loud round of applause by the fans. Of course he plays more of his band's output like 'Lucky Denver Mint' (which works perfectly fine in the acoustic setting), 'Damage' or some rare tunes like 'Cut' and 'Ten'.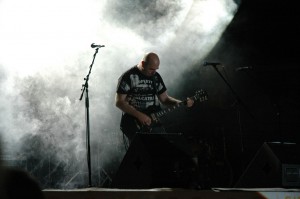 But it the cover songs give the show some depth. ADKINS tells about the recording process and is a lot funnier in comparison to the shows he does with JEW. 'The Book of Love' (the Magnetic Fields original version, not the one of Peter Gabriel) is a treat, but CNYDY LAUPER's 'Girls Just Wanna Have Fun' and 'Only Girl (In The World)' by r'n'b princess RIHANNA are more than just a laugh. These tracks work out during JIM ADKINS' performance.
The man plays 26 Songs in about ninety minutes. Not a second of this gig was boring, even though singer/songwriter music often tends to be boring. It was great to hear all the JIMMY EAT WORLD songs in a different sound. And his solo stuff is very good as well.
Text by Sebastian Berning